EC index
It has been proven, that there is direct link between how people feel at work and their performance. To measure
existing
emotional atmosphere in your team or whole organization – we encourage you to use Genos
EMOTIONAL CLIMATE INDEX
:
great BEFORE and AFTER assessment tool
available in smartphones, laptops and tablets
EMOTIONAL CLIMATE INDEX measures the most frequent feeling you experience in the workplace and their:1. current state
– how often people experience certain feelings at work,
2. expected state
– how often people think it's fair and reasonable to experience these feelings at work given the nature and context of their workplace,
3. ideal state
– how often people think they should ideally experience these feelings in their workplace to be effective.    
REALLY quick and easy - it takes approx. 5 minutes for participants to fill it out!
MOTIONAL CLIMATE INDEX
will be useful for organizations and managers who:
care about how their employees feel,
understand that behaviour of the manager has a high impact on how employees feel at work,
understands that there is a strong link between how employees feel and their performance,
are ready to look for solutions and, most importantly, take action to improve wellbeing of their employees,
are willing to develop their own emotional intelligence skills.
Example of survey result: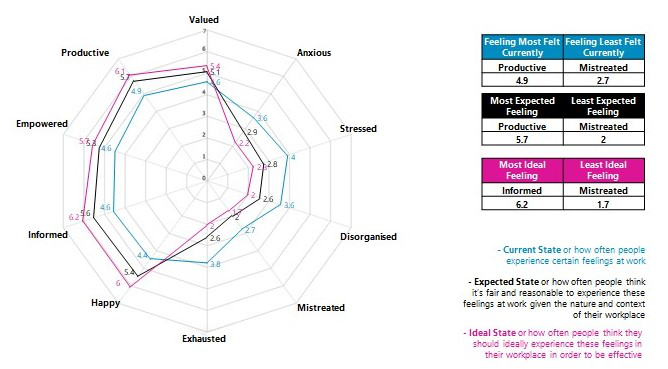 Participants have possibility to write free text comments on the most helpful and unhelpful workplace feelings.